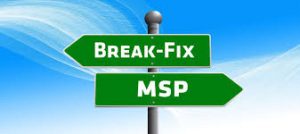 Choosing  the right information technology (IT) service provider will have –get that "will"—have an impact on your overall business strategy.
As a guide to what to look for in these partners, look at how they conduct business: are they selling you a "package" of services or are they using a "pay-as-you-go" model?  Choosing between these approaches will determine how you do business with them on a daily basis as well as impact the cost of the services you are contracting them to perform.
Let's start with the two models:
A Managed Services Provider (MSP) is a company who provides outsourced IT services management for a company. IT infrastructure is controlled and managed end to end for a subscription fee.
The Pay-As-You-Go (PAYG) model is a break-and-fix approach. Assistance and advice are provided on an as-needed basis.
Each model has its advantages and disadvantages.
MSP can be likened to a retainer fee for whatever services are needed during a given time period (i.e., a month). Given the level of service needed each month, over time, the ebb and flow of work done will even out with the higher fees.
PAYG has no initial cost, but charges are accumulated by the actual work done.
Larger businesses who need more predictable costs and have unpredictable IT needs (because of multiple users) could benefit from being served by an MSP.
Smaller businesses many times resort to a PAYG approach in an effort to contain costs with fewer users and less budget, they take the gamble that they will have fewer problems to be attended to.
The best answer is somewhere in the middle: a set of retained services for a reasonable fee plus a project-based  (PAYG) plan to cover unpredictable needs.
*thanks to Webtitan and Technologyvisionaries for the images