24/7 Help Desk Support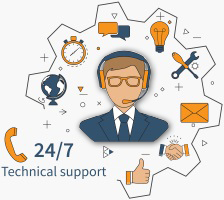 All of our dedicated help desk engineers are ready to assist with any issues you might have. We can assist with both hardware and software needs. 3T Pro offers our clients 24/7 help desk support by certified engineers. That's right; our expertise is available around the clock, even on weekends and holidays. No one knows when unforeseen events may occur such as power outages or other disasters. Day to day we are well versed in most technologies so your fix is just moments away.
With our state of the art remote tools, our team of technicians can remote in to your system to have you up and running in just minutes. When calling our help desk, basic question and answer solutions are free. In the event you need detailed resolution, we bill in 15 minute increments to be respectful of your IT budget.
If needed, an onsite technician may be dispatched to your office since not every issue can be resolved remotely. Our certified and highly experienced technicians will arrive at your office already informed of the situation. 3T Pro technicians are equipped with the appropriate tools and materials needed to complete most repairs. Our staff will arrange for a convenient appointment to get your issue resolved to your satisfaction. Whether on the phone or onsite, 3T Pro will take care of your system needs to keep your business systems running and profitable.