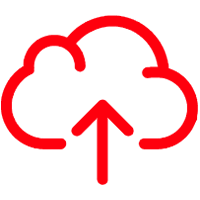 Harnessing the power of the cloud for your business.
We have developed the ideal cloud-based data server infrastructure, tailored for our clients' industry or business type and size.
Our offering is built around CloudConnect, a comprehensive cloud infrastructure and desktop-as-a-service offering. It is an integrated hosted solution and includes disaster recovery as a part of the total offering.
Not only access but secure access is ensured with this service. Organizations are experiencing a new-found freedom and productivity using CloudConnect.
CloudConnect
 service offers:
Log-in from any device
Access to all applications
Access to all files and folders
Access to printers
Ability to network with other hardware and devices
Areas Served:
We provide cloud services to small and medium sized businesses in the following cities and counties in Texas:
Cities: Dallas, Fort Worth, Richardson, Garland, Plano, Irving, Arlington, Rockwall, Mesquite, Grand Prairie, Carrollton, Allen
Counties: Dallas County, Collin County, Denton County
Metropolitan: DFW Metroplex
Zip Codes: All zip codes in 35 miles from 75080
Cloud computing means that instead of all the computer hardware and software you're using sitting on your desktop, or somewhere inside your company's network, it's provided for you as a service by 3T Pro and accessed over the Internet, ideally in a seamless way. Exactly where the hardware and software is located and how it all works doesn't matter to you, it's just somewhere secure up in the cloud.
Cloud computing is a buzzword that means different things to different people. For some, it's just another way of describing IT (information technology), others use it to mean any computing service provided over the Internet or a similar network; and some define it as any bought-in computer service you use that sits outside your office network.
It's managed
Most importantly, the service you use is provided and managed by 3T Pro. As an example If you're using Hosted Exchange, you don't have to worry about buying licenses or keeping them up-to-date. With hosted-based services, you simply concentrate on whatever your job is and leave the problem of providing dependable computing to someone else.
It's "on-demand"
Cloud services for small and medium sized businesses are available on-demand and often bought on a subscription basis. So you typically buy cloud computing the same way you'd buy electricity or Internet access from a utility company.
Infrastructure as a Service (IaaS)
 means you're buying access to raw computing hardware over the Net, such as servers or storage. Since you buy what you need and pay-as-you-go, this is often referred to as utility computing. Ordinary web hosting is a simple example of IaaS: you pay a monthly subscription or a per- gigabyte fee to have a hosting company serve up files for your website from their servers.
Software as a Service (SaaS) means you use a complete application running on someone else's system. Adobe Creative Cloud Suite or Hosted Exchange are perhaps the best-known examples.
Platform as a Service (PaaS) means you develop applications using Web-based tools so they run on systems software and hardware provided by another company. So, for example, you might develop your own eCommerce website but have the whole thing, including the shopping cart, checkout, and payment mechanism running on a merchant's server.
Desktop-as-a-service (DaaS) is a form of virtual desktop infrastructure (VDI) in which the VDI is outsourced and handled by a third party. Also called hosted desktop services, desktop-as-a-service is frequently delivered as a cloud service along with the apps needed for use on the virtual desktop.
The pros of cloud computing are obvious and compelling. If your business is selling books or repairing shoes, why get involved in the details of buying and maintaining a complex computer system? If you run an insurance office, do you really want your sales agents wasting time running anti-virus software, upgrading word-processors, or worrying about hard-drive crashes? Do you really want them cluttering your expensive computers with their personal emails, illegally shared MP3 files or YouTube videos when you could leave that responsibility to someone else?
Cloud computing allows you to buy in only the services you want, when you want them, cutting the upfront capital costs of computers and peripherals. You avoid equipment going out of date and other familiar IT problems like ensuring system security and reliability. You can add extra services at a moment's notice as your business needs change. It's really quick and easy to add new applications or services to your business without waiting weeks or months for the new computer and its software to arrive.
Become untethered.
Learn how 3T Pro can connect your business to the cloud for unprecedented freedom.
WHAT CUSTOMERS ARE SAYING
"If you have ANY type of IT issue you need resolved, these are the guys to do it."
"I knew they could do it. It's how strategic partnerships operate."
— Larry L, CFO
Architectural design firm – Arlington, TX
"When it comes to our IT services and equipment, I can't be wasting time on it being down or compromised. I need someone to make things painless for me."
— Sandra G., Legal professional
Dallas, TX
"When it came to equipping and supporting my sales team, I didn't need just an IT company. I needed a business partner who would be looking out for me."
— Suzanne C, Owner
food brokerage company – Dallas, TX
"3T Pro is a true partner. We had a serious crisis and they didn't blink. They had us back up and running immediately. We could not be more impressed — or more grateful."
- Richard S., Partner
Acoustical Design firm - Dallas, TX
"They never make me feel inferior like other IT 'support' I've dealt with. Whenever I call, even with something minor, they always take time to understand my issue and find the best solution. They're fantastic."
— Chris H., Creative Director
Graphic Design firm - Dallas, TX
"With the help of a specialist on the other end of the line, I was able to recover my drive and start to populate a new machine. Phil (the phone tech) was able to walk me through most of my issues."
— Paul M, Marketing Consultant
Dallas, TX
"We have been with 3T for over 10 years. I can't say enough good about these guys. Our service is seemless. The spam control is great. Their support when I don't understand how to operate a piece of our service is readily available. I unhesitantly recommend them."

We know Business IT.
3T Pro provides IT Services in Dallas including Managed IT Services to a wide variety of small- and medium-sized businesses across Dallas, Plano, Richardson, Allen and beyond. We offer managed IT Services, Cloud Services, Project Management, Business Continuity, and much more. Our mission is to keep your technology humming so you can keep your business growing.